Shabbos Information
&

Accommodations:
Shabbos elevators are located at the main entrance and Blaustein.
Shabbos meals are always available in our hospitals that have Kosher Pantries.
If you know that will need Kosher food delivered to you on Shabbos, please try to call us by Thursday at noon.
Shabbos Minyan at Levindale: please call Rabbi Orken 410.601.2357.
Bikur Cholim provides rides over any Shabbos or Yom Tov. Call Jorge Ajuayo at 443.622.5842.
Sinai Shabbos housing is available at *The Hackerman Patz House. The Hackerman-Patz House is located just steps away from Sinai Hospital of Baltimore and offers convenient, free parking that is monitored by security. Call Bikur Cholim at 410.999.3700.

Shabbos and Yom Tov Access
A Shabbos and Yom Tov entrance and elevator are available on Shabbas from Friday sunset to Saturday sundown and on Yom Tov from sunset of the first day to sundown of the last day.
​
Shabbos access into the hospital at the Main Hospital and Blaustein building
The elevators designated "Shabbat Elevators" are programmed to stop at each floor.  Each Friday afternoon and Erev Yom Tov, the hospital activates this mode.  Please consult your Rabbi regarding the circumstances when you may use them.
Sinai Hospital is within the eruv. Halfway to Sinai: Stop on your way to visit Sinai Hospital or Levindale on Shabbos or Yom Tov, to rest & drink on the porch at 3000 Glen Avenue (corner Key Ave.) & 5932 Cross Country Blvd. (corner Simmonds Ave.) Call 410.466.3132 if you have any questions.
Rabbi Ackerson (mackerso@lifebridgehealth.org).
Office of Pastoral Care and Chaplaincy Services: 410.601.9680, or extension 29680 from inside the hospital.
The chapel is located on the first floor corridor between the main hospital and the Blaustein Building.
During evenings and weekends, please inform your nurse if there is an emergency need for a chaplain.
Volunteers from the Bikur Cholim, as well as other Jewish organizations, visit patients regularly to provide a friendly face and a connection to the local Jewish community.  Patients who indicate "Jewish" as their faith on the hospital admission form may receive visitors from the Bikur Cholim, as well as other organizations or synagogues.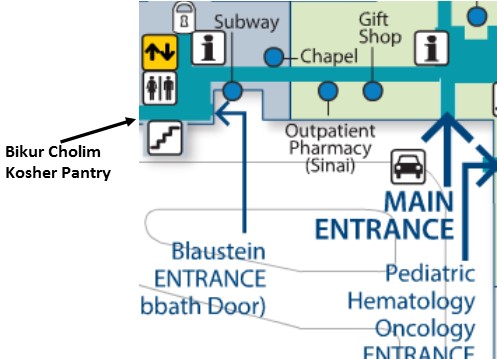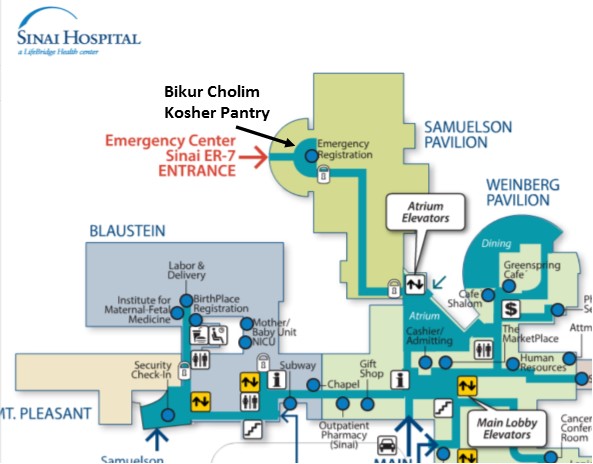 Bikur Cholim Kosher Pantries
Bikur Cholim provides two kosher pantries for the benefit of patients and their family members. The Kosher Pantry is stocked weekly with fresh kosher meals and special Shabbos foods, prayer books, electric candlesticks, reading material, and much more.
The main pantry is located on the first floor of the hospital of Sinai, across from the SUBWAY in the corridor between the Blaustein building and the children's building. A second pantry is located in the ER-7 EMS room of the hospital.
Seasons Hospice Care at Sinai
The hospice unit at Sinai Hospital dedicated its new kosher kitchen to Laure Gutman a"h, a local nurse, longtime Bikur Cholim volunteer and passionate advocate for end-of-life care. The unit at Sinai has 12 patient rooms is directed by Dr. Gary Applebaum, national medical director of Seasons. The kitchen will be available to patients and families in the hospice unit.
Seasons Hospice is available 24 hours a day, seven days every week. If you have questions and want answers, or if you have a loved one to refer to hospice, please call 855.812.1136 (toll-free) at any time.
Bikur Cholim has partnered with Seasons and can help you with your Kosher needs, please contact us for more information– 410.999.3700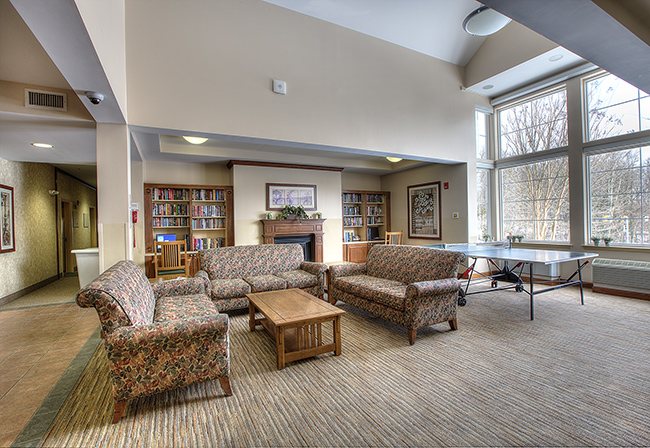 The Hackerman-Patz House at Sinai Hospital*
The Hackerman-Patz House is a comfortable and convenient place to stay — a home away from home — for LifeBridge Health patients, their friends and family members, and employees. Located on the campus of Sinai Hospital at 2434 West Belvedere Avenue in Baltimore, Md., the Hackerman-Patz House is intended for patients and families traveling to Sinai or other LifeBridge Health facilities for appointments, rehabilitation or procedures that require overnight or long-term stays.
The staff at the Hackerman-Patz House is dedicated to keeping guests safe and secure and creating an atmosphere that is as homelike as possible. You will have the freedom to maintain the privacy of your family so that you can draw strength from one another, and, if you choose, the opportunity to find support through interaction with other guests.
Guest suites at the Hackerman-Patz House resemble deluxe hotel rooms. Each room is equipped with the following:
Two beds (small rooms have one twin and one double bed, large rooms have two double beds)
Roll-away cot
A sitting area
Private bath
Microwave
Refrigerator
Coffee pot
Room safe
Telephone
Cable television
DVD player
Our common areas include a playroom, multi-purpose/computer room, guest laundry, terrace, a large great room and a house kitchen. For the convenience of our guests, wireless internet is available throughout the entire house. For a virtual tour, click here.