Shabbos Information
&

Accommodations:
Johns Hopkins Hospital has Shabbos elevators. They are located in the Hopkins Zayed Tower and Bloomberg Childrens Tower.
Shabbos meals are always in the Kosher Pantry.
If you know that you will need Kosher food delivered to you on Shabbos, please try to call us by Thursday at noon.
Bikur Cholim provides rides over any Shabbos or Yom Tov. Call Jorge Ajuayo at 443.622.5842.
Johns Hopkins Shabbos housing is available in *The Tikvah House run by JCN (410.534.1033). Food will be provided by Bikur Cholim. Call Bikur Cholim at 410.999.3700.
​
Please contact us for more information or help at 410.999.3700.

Bikur Cholim of Baltimore Kosher Pantry at Johns Hopkins
The Bikur Cholim Kosher Pantry is located in Room 175 of the Blalock Building. It is stocked by Bikur Cholim volunteers with microwaveable meals, snacks, cholov yisroel yogurt, milk and other items and has a microwave in the pantry as well. The code is on the door. Please call for special requests to be placed in the fridge as well.
Monday through Thursday at 1:10 pm and 2:10 pm for Daylight Savings Time in the Pastoral Care Conference Room Located in Room 175 of the Bikur Cholim Kosher Pantry.
Ty Crowe, Director of Spiritual Care and Chaplaincy, The Johns Hopkins Hospital, can be contacted at: 410. 955.5843.
Food in or near the Hospital
Kosher meals can be ordered from the hospital food service kosher menu (ask the nutritionist on the floor for the kosher menu). They are prepared meals from a local kosher restaurant. The nutritionist can also order from the Accents Grill cafeteria menu (see below). Guest trays can be ordered for $10/meal.
The hospital has kosher refrigerators (i.e. a small fridge that they will deliver to your room on request) available from the Office of Pastoral Care (contact Ron, 410.955.5843) on a first come basis.
Me Latte – located in CRB II (Cancer Research Building II)(research building south of the outpatient garage) 1550 Orleans St., Baltimore, MD 21205.
Tel: 410.502.2936.
Their website is: melatte.com.
Hours are 7-5 M-Th, 7-4 Friday. Under supervision of the Rabbi Tzvi Weiss (Rabbi of Bais Hakneses Ohr HaChaim).
Me Latte serves a full menu of coffees and a nice selection of cakes and milchig/pareve sandwiches, salads, bagels and soups. They also have prepared fleishig sandwiches and wraps, as well as other kosher products (yogurts, etc.). Keep in mind that they close at 5PM and may run out of some items (such as fleishig sandwiches) earlier in the day. To order for delivery to hospital call 410.502.6974
Accents Grill (sandwiches and salads) available @ the Cobblestone Café:
Inside the main hospital cafeteria, in the center of the Cobblestone Café opposite the cashier, you will find 2 shelves of prepared sandwiches and salads from Accents Grill, certified by the OU. This cafeteria is open M-F 6AM-4PM.
Van Gough Cafe – 300 S Ann St, Baltimore, MD 21231.
Tel: 410.558.1958
Their website is: www.vangoughcafe.com.
Under supervision of the Rabbi Tzvi Weiss (Rabbi of Bais Hakneses Ohr HaChaim)(not-cholov yisroel.)
Van Gough Cafe is located 2/3 mile from the hospital. They carry sandwiches, Goldberg's Bagels, mac and cheese, ice cream, paninis, cakes and muffins and more. Hours are 7AM – 5PM M-T, 8AM – 6PM Sun and 7AM-3PM Friday.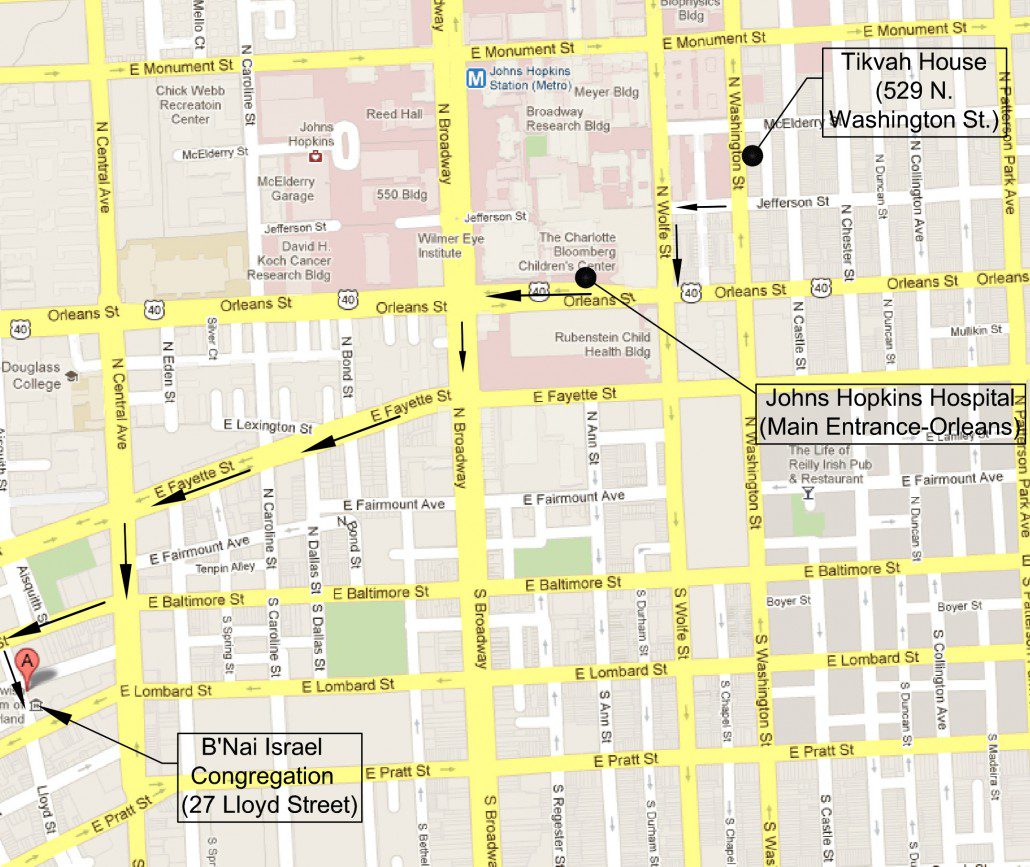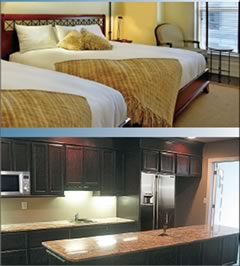 The Tikva House*
*SERVICES PROVIDED THROUGH THE JEWISH CARING NETWORK OF BALTIMORE
The Tikva House is a comfortable home-base for Jewish families caring for a loved one receiving treatment at The Johns Hopkins Hospital. Patients come from around the world to Baltimore's Johns Hop­kins Hospital for cutting edge treatments, surgeries and medi­cal counsel. The Tikva House will provide a place for families to stay in walking distance of the hospital.
7 Bedrooms with Private Bath & Kitchenette
Fully Stocked Kosher Pantry
Kosher Meals
Communal Kitchen & Dining Room
Laundry Rooms
Playroom • Library
Wireless Internet
Families will have the freedom to maintain their privacy and, if they choose, may visit the common room where they will have the ability to draw strength and support through interaction with the other guests.
With the knowledge that they are staying in a warm, safe environment, families are free to fully concentrate on taking care of their loved one.
​
The Tikva House Phone Number:
410.534.1033
JCN's Phone Number:
410.602.6075
Click Here for the Tikva House's Website
Other Accommodations
The McElderry House is right near the hospital and can be arranged for Shabbos through Bikur Cholim (410.999.3700).
Hackerman-Patz House and Blair House are for families of cancer patients and other patients of Johns Hopkins Hospital (ask social worker for referral).
Children's House is for families of pediatric patients.
Mothers of PICU patients can stay in the Wilhide Room on the 9th floor and parents of NICU patients can stay in a 6-bed room (ask your nurse or social worker).
The new Children's Hospital has a pull out bed for one parent in each of the patient rooms. Before Shabbos, ask the Jewish chaplain to speak with the charge nurse to get permission to have two parents sleep in the room for Shabbos.
Bikur Cholim has a dedicated apartment in the community that can be used for as long as needed.
Bikur Cholim can help make arrangements for families for Shabbos, contact us at 410.999.3700.
Shabbos/Yom Tov
The Pastoral Care Office (contact Linda, 410.955.5842) has electric candles for Shabbos, which can be used with a bracha (ask your Rabbi). Washing your hands is a challenge on Shabbos because many of the faucets are electric. Find a manual one before Shabbos, if possible. Getting around the hospital is tricky on Shabbos, so try and plan before Shabbos a route, especially if you are staying in one of the accommodations listed above.
B'nai Israel Congregation – 27 Lloyd Street, 410.732.5454, www.bnaiisraelcongregation.org. This Modern-Orthodox shul is located 0.9 miles from the hospital. Be wary of the route you take, as the hospital neighborhood has some blocks that are less than safe. Be extra wary at night.
Shofar Blowing – contact Chabad Downtown 410.605.0505 http://www.chabaddowntown.net or Bikur Cholim to arrange shofar blowing in the hospital for Rosh Hashana.
Succah – For the Succos holiday, a succah can be found on the Johns Hopkins Hospital campus outside the Johns Hopkins CRB II (research building south of the outpatient garage) Research building. Contact the Jewish chaplain for more information.
Other tips
Parking coupons are available in the parking garages and the main hospital cashier. They come in books of 5 or 10 for $6/coupon.
Parking coupons are also provided by a Pediatric Specialty Clinic nurse or social worker.
Families who have an infant or child with a long inpatient stay are provided meal coupons, which can be used in places such as the Cobblestone Cafe (for kosher sandwiches and salads from Accents Grill amongst other things) Ask the unit social worker, or case manager.
Children's Library and Family Resource Center is located on third floor of Hopkins Children's (CMSC 301). Contains children's books, videos and a computer for public use. Patient Library is in Carnegie 173 (M-F, 1-4); personal computer and Internet access available.
Protective Services Officers provide a walking escort service around the clock to any point on the East Baltimore medical campus. To request a walking escort, call 410.955.5585.
There is a Jewish chaplain for the hospital, Rabbi Dr. Tsvi G. Schur (Shabbos observant and an experienced mohel), usually in on Tuesdays and Thursdays and available for emergency calls other times. Call 410.955.5842.
Chabad Lubavitch of Downtown Baltimore 410.605.0505.